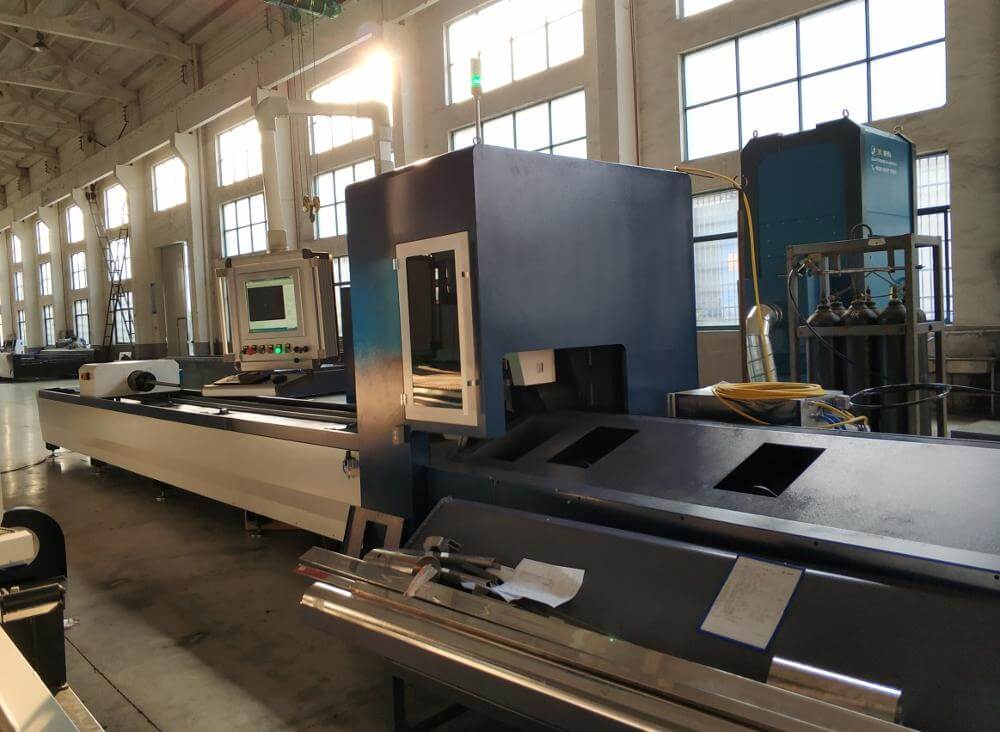 2 Chuck Professional Tube Laser Cutting Machine
Features
1. 2-chuck Clamping Technology
2.Cut 12000mm entire tube at most
3.Maximum pipe diameter 450
4.Maximize the weight of single tube
6.Automatic uploading can be optional
7.

3D cutting function can be optional.
Advantages
EtherCAT bus system
FSCUT5000 series is EtherCAT bus system specially designed for fiber laser tube cutting machine. Work with TubesT 3D nesting software, it will achieve most efficiency and minimum waste.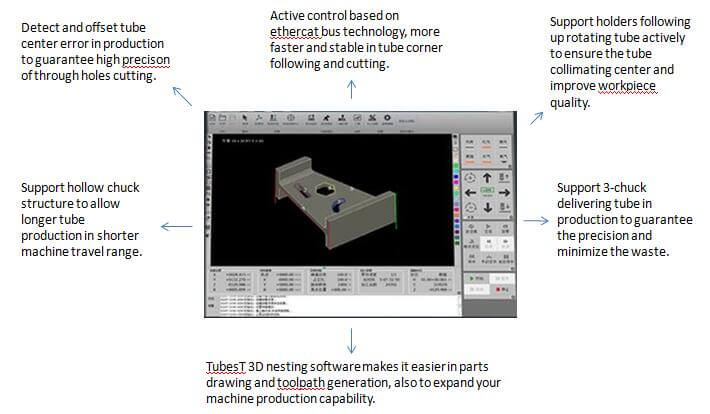 Auto Focus Laser Cutting Head
The product is equipped with slender TRA components and slender nozzles, which can adapt to any complex tube cutting and cutting product conditions, and has a built-in motor drive unit, which drives the focusing mirror to automatically change its position within a certain range through a linear mechanism. It can realize continuous focusing, complete rapid perforation and automatic cutting of pipes of different thicknesses and materials; the optimized optical and water-cooled design enables the laser head to work continuously and stably for a long time.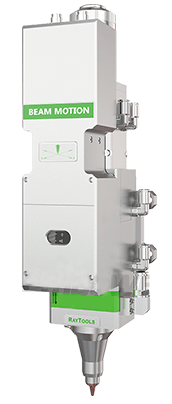 Perform Well in Tube Cutting
Cut max. 12000mm entire tube
Max. cutting range of round tube Φ20-450mm
Also cut profiles like channel, angle and I-shaped steel etc.

Imported Parts, Precision Guaranteed 
Equipped with dual




high-powered servo motors and drivers which from German

Core transmission parts like speed reducer and gears are imported from Japan

High-precision racks,




guide rails and ball screws are produced by world-famous brands.
Top Brand Laser Power
(Meet different customer needs)
| | | |
| --- | --- | --- |
|   |   |   |
| IPG Laser Power | Max Laser Power | Raycus Laser Power |
 Quality Control System
Rigorous quality inspection of the assembly process, perfect quality system, high-precision inspection and inspection equipment: laser interferometer, laser collimator and three-coordinate projector, to ensure that each delivered customer equipment can meet the company's factory quality standards;
Cutting video
CNC Laser Pipe Cutter Cutting Samples
Fiber Tube Laser Cutting Machine Parameters
Model

JCT2612

JCT2616

JCT2622

JCT2628

JCT2632

JCT2635

JCT2645

Power

1000W-6000W

Min.Dia(mm)

20

20

20

20

20

20

20

Max.Dia(mm)

120

160

220

280

320

350

450

Tube length(mm)

3000 / 6000 / 9000 / 12000

Maximum revolutions of chuck(RPM)

80-120

X/Y-axis Positioning Accuracy

±0.05mm

±0.05mm

±0.05mm

±0.05mm

±0.05mm

±0.05mm

±0.05mm

X/Y-axis Repositioning Accuracy

±0.03mm

±0.03mm

±0.03mm

±0.03mm

±0.03mm

±0.03mm

±0.03mm

Positioning speed

90m/min

90m/min

90m/min

90m/min

90m/min

90m/min

90m/min

Max. Acceleration

1G

1G

1G

1G

1G

1G

1G
 *The above data are for reference only, subject to the actual product!
Have any questions?Let's get in touch!
Contact us if your are thinking of purchasing highqualityingredients, develop new products, or justsolving a manufacturing challenge in your rawmaterials.